Yarmouth Brewing Centre Brew on Site
Now you have a choice! Make your own wine at your home or at our wine making supply store using the best winemaking products available by Winexpert wine kits. You can make and bottle your wine on our premises. We will help you choose your wine and then all you need to do is pitch the yeast. We will take care of the rest! Just come back and bottle it when your wine is ready.



Frequently Asked Questions



How many bottles will I get?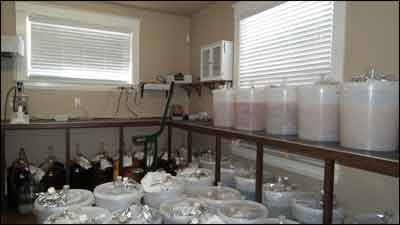 You will get approximately 28-30 750ml bottles per batch.

How long does it take?

Our wine kits take 4-8 weeks to make, depending upon the kit. Some may require additional aging.

Is it expensive?

There is a wide range in the price of our wine kits from approximately $50.00 to $140.00. Add our service fee of $49.95 for the brew on site option and do the math. In every case you end up with about 30 bottles of great wine at a very reasonable cost. Prices include bottle sterilizing and regular corks. Synthetic corks, labels and shrinks are extra. We sell bottles if you don't have any bottles yet. You can re-use bottles that you have purchased, but the labels and shrink caps must be removed.

What is the alcohol content?

11 - 14% for table wines and 7-8% for the fruit wines.

What do I have to do?

Choose a style of wine you like. We can assist you with finding a wine that is suited to your taste if you are unsure. We mix the ingredients and you sprinkle the yeast. (The law says you have to!)

How long can I keep my wine?

The 4 week wines can be kept up to 18 months under good storage conditions. 6 to 8 week wines can be kept up to 36 months if synthetic corks are used. If you use regular corks, 24 months.

How do I clean my wine bottles?

Rinse with hot water and drain well, cut off the shrink wrap and remove label. Once dry, put back in the box upside down.

Do I have to bottle my wine right away?

Within 6 weeks to prevent oxidization.

What kinds of wine are available?

There are so many choices available. Check out our wine kit pages online or come in to see us and we will show you our product line.

How long does it take to bottle?

About half an hour per batch, which allows time to wash the bottles, bottle the wine, add labels and have a sample of your wine.

How do I store my wine?

Do:
Store your wine upright for the first 3 to 5 days. After that, store your wine on its side in order to keep the cork moist. Store your wine in a cool (10-15 C), dark place. Your wine should be stored where the temperature is CONSISTENT… Bright light, movement, and temperature fluctuations can negatively affect the quality of your wine.

Do Not:
Do not constantly turn your wine. Red wines will sometimes dust (leave residue on the inside of the bottle). This is normal. Simply decant your wine. Do not store your wine directly on a cement floor. The floor absorbs the heat, cold and vibrations. Put a piece of wood under the wine storage boxes. Do not store your wine on heated floors. The heat transfers to the wine.

Sign up for our free newsletter! View our Facebook Page