Customer Savings Card
If you don't have your Customer Appreciation Savings Card yet, pick yours up today! A full card equals $10 off your next regularly priced wine kit. Drop in for details. Just one more way we want to say Thanks for your business!
Brewers Club Savings Card
Come in and find out how you can save all year long when you brew your wine with us. And membership is free. For more information on Brew on Site, drop into the store, give us a call or check out our Frequently Asked Questions.
Winexpert ™
The best wine kits available –
Satisfaction guaranteed!
For all of you who have been buying your wine making and beer brewing supplies in Yarmouth for a while, you know that the quality and variety of brewing kits has never been better. Award winning wines are now being produced that rival anything on the market, and all at a fraction of the cost.
We are a Proud Sponsor!

The Coal Shed Music Festival is a summer music event created as a fundraiser for the Yarmouth Food Bank and local school breakfast programs. Local artists entertain on the Yarmouth waterfront. Admission is free but donations are accepted for these worthy causes. 2019 marked the 13th year for the Coal Shed Music Festival. Whatever your taste in music, there was definitely something for everyone and the event was for all ages. Thank you to all who came out to support the Yarmouth Food Bank and school breakfast programs! Stay tuned for next year and the 2020 line-up, and come out and enjoy some more amazing music at the Coal Shed Music Festival. The Yarmouth Brewing Centre will be there once again, a proud supporter of such great community events!
2019 Limited Edition



The 2019 Winexpert Limited Edition wines are available now. Follow ths link for 2019 Limited Edition details.
We have ordered extra, if you missed the pre-order. Stop in or call (902) 749-1360 for more information. Click on the image below to enlarge it.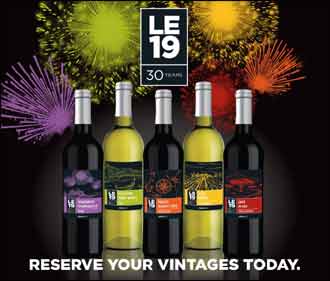 At the Yarmouth Brewing Centre our aim is to provide our customers with the best wine making kits and beer brewing kits and supplies available today. Drop by our downtown Yarmouth location, where you will find your favourite wine kits. If you have a wish list for something then please let us know.

Brewing your wine has never been easier, especially when you brew it at your local urban winery. You pitch the yeast, leave the brewing to us, and then return when it is ready to bottle.