Yarmouth's family run locally owned Urban Winery
Thanks everyone for your great support over the years. We are proud to be a family run business serving our local community. We do our best to shop locally, and to support local businesses and community organizations. And we will continue to provide you with the great customer service you have come to expect.

We can supply your brewing needs, whether you brew wine, beer or spirits. We also offer our brew on site service if you would like to brew your wine with us. No mess, no fuss — you just sprinkle the yeast to get started, and then come back to bottle your wine when it is ready.
Customer Appreciation Savings Card
If you don't have your Customer Appreciation Savings Card yet, pick yours up today! A full card equals $10 off your next regularly priced wine kit. Contact us for details. Just one more way we want to say Thanks for your business!
Brewers Club Savings Card
Find out how you can save all year long when you brew your wine with us. And membership is free. For more information on Brew on Site, drop into the store, give us a call or check out our Frequently Asked Questions.
Winexpert ™
The best wine kits available –
Satisfaction guaranteed!
For all of you who have been buying your wine making and beer brewing supplies in Yarmouth for a while, you know that the quality and variety of brewing kits has never been better. Award winning wines are now being produced that rival anything on the market, and all at a fraction of the cost.
At the Yarmouth Brewing Centre our aim is to provide our customers with the best wine making kits and beer brewing kits and supplies available today. Drop by our downtown Yarmouth location, where you will find your favourite wine kits. If you have a wish list for something then please let us know.

Brewing your wine has never been easier, especially when you brew it at your local urban winery. You pitch the yeast, leave the brewing to us, and then return when it is ready to bottle.
We are a Proud Sponsor!
The Coal Shed Music Festival is a summer music event created as a fundraiser for the Yarmouth Food Bank and local school breakfast programs. Check out the Coal Shed Music Festival here.
News and Updates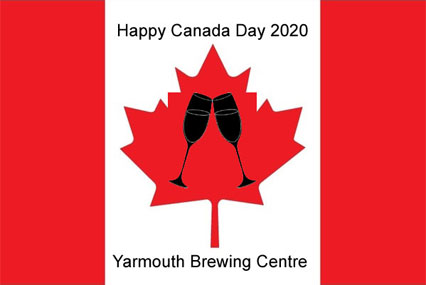 HOLIDAY HOURS NOTICE
Happy Canada Day everyone!

These past few months have certainly presented unexpected challenges due to Covid-19. We have done our best to adapt, while continuing to provide you with exceptional customer service. And it is our intention to continue such service going forward.

Please note that over the next few days, we have decided to take a short break to recharge our batteries. We will be closed from Wednesday, July 1 until we reopen on Monday, July 6. We apologize for any inconvenience. Thank you all for the great support you have shown for our family-run business.
COVID-19 UPDATE
With the easing of restrictions for Nova Scotia, we will once again be making changes to the way we operate for the time being. Going forward our doors will now be open to the public.

For the safety of our staff and customers physical distancing will still be required. Also, if you are showing symptoms of Covid, please stay home.

Our hours of operation are Monday to Friday between 10:30 am and 4:00 pm.

PLEASE NOTE: Our in store winery will continue. If you have wine brewing with us it's still being maintained properly. If you have finished wine that you'd like to bottle arrangements can be made but it means coming in at scheduled times; if you're unable to do so please know your wine will be well taken care of and waiting for you. If you wish to make wine on site, arrangements can be made for this too. Call us between Monday and Friday between 10:30 am and 4:00 pm or message us on our Facebook page.

Thank you all for your wonderful support.